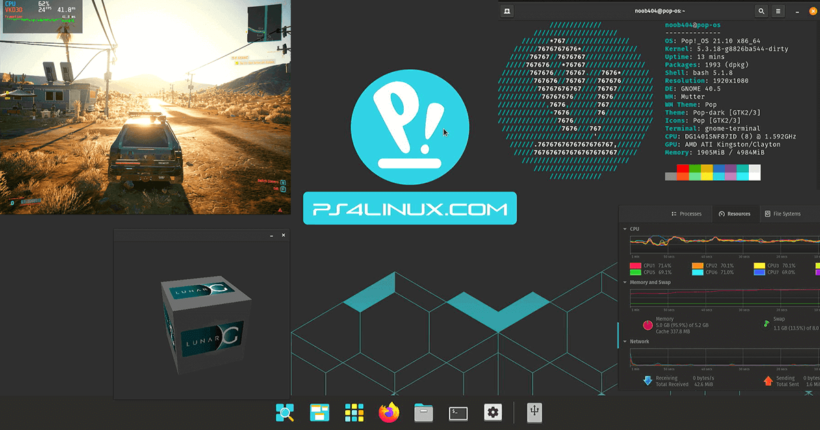 Pop! OS is a good looking Linux distro based on Ubuntu. And, here we have the Pop OS port for PS4. Go through the article to see what you can expect in the distro on your PS4 and how good is gaming on Wine with Pop! OS.
Update: Pop OS 22.04 has been released.
Features
Display Manager – GDM
Mesa – 21.3.5
Libdrm – 2.4.107
Dark Mode enabled (can be disabled)
Good looking Desktop for gaming and other productivity tasks
Included gaming applications
I have included the following applications by default with the distro package:-
Wine
Steam
Dolphin Emulator
PCSX2
RetroArch
DXVK
VKD3D
Learn about the terminal commands used to install these applications and more on major Linux distros here.
Download
Login details
User: noob404
Password: ps4
Root password: ps4
Screenshots
PopOS on PS4: Showcase Video
Installation: How to install Pop OS on PS4?
The usual steps for installation of Linux distros on PS4 might not work with Pop OS. So, I have come up with a faster method for installation. You can read all about it here. And, if you are confused, don't worry, here is a detailed video showing the whole process.
Set up swap space (Optional, but recommended)
Setting up a proper swap space reduces the chance of crashes during gaming and other heavy tasks. So, I recommend you follow these steps to set up swap space before gaming on this distro.
Open a terminal and type su. It will ask for a password. Enter ps4. You should now have root access.
Next, type cd / and press Enter.
Then, type touch /swapfile.
Next, decide how much swap space you require. I suggest having 4GB to 8GB. But, this will depend on how much free space your USB drive has. Assuming, you want to have 8GB of swap, type fallocate -l 8GB /swapfile and press Enter.
Then, type chmod 600 /swapfile and press Enter.
Following that, type mkswap /swapfile and press Enter.
Finally, type swapon /swapfile and press Enter.
This swap will stick for the current session, but you will have to redo all these steps after a restart. To make this permanent, type nano /etc/fstab. This will open the file, fstab in a text editor.
Use the arrow keys to scroll to the last empty line and type /swapfile none swap sw 0 0. Then, press Ctrl+X followed by Enter.
Press Y when prompted with "Save modified buffer" and Enter.
Confirm that the file name to write is /etc/fstab. Press Enter.
If this method doesn't work, try this alternate swap creation method (second one in the section).
Fix issues with Pop OS on PS4
While I expect you to have a pleasant experience with this distro, you might run into a few issues. Here are issues that I have noticed while working on this distro. If you ever face any issues, check the AIO page on the same. If you don't find any fixes there, comment below and I will try to find a fix for it and update the article.
There is no executable '/newroot/sbin/init'
To fix this issue, just type resume-boot and press Enter. The distro will then boot normally.
Fix black screen issues on PopOS for PS4
Black screen before login
If the boot freezes on a black screen, here are a few things you could try:-
Press any key.
If that doesn't work, press Ctrl+Alt+F2. When the terminal appears, press Ctrl+Alt+F1 to get to the login screen.
If that too didn't work, unplug the monitor. You may remove the cable from the monitor end rather than from the PS4. Reconnect the monitor.
Press Ctrl+Alt+F2. On the terminal screen, press Ctrl+Alt+F1 to get to the login screen.
Black screen with an underscore (dash) on top left
Many of you have complained of this too. This indicates an issue with the extraction of the distro. To fix this, follow this tutorial, but make sure that you are using Lubuntu for the installation.
Black screen after login
Some users have complained of black screen after they login to Pop OS on PS4. To fix this problem, follow the steps below:-
When on login screen, press Ctrl+Alt+F2. This will drop you into terminal.
Provide username, i.e., noob404 and password, i.e., ps4 to login to terminal.
Type sudo systemctl restart gdm and press Enter.
If that doesn't fix it, press Ctrl+Alt+F2. A restart maybe required before this if it freezes on the black screen.
On the terminal, type sudo nano /etc/gdm3/custom.conf and press Enter.
Using your arrows, scroll down and remove the # before AutomaticLoginEnable and AutomaticLogin.
Replace user1 with noob404 such that it says AutomaticLogin = noob404.
Press Ctrl+X, then Y and finally Enter to save and exit.
Type reboot and press Enter.
After that, reload the Linux Payload on your PS4 and get to Pop OS. This time, Pop OS will boot directly on your PS4 bypassing the login screen.
Conclusion
I hope you are enjoying Pop OS. Help me make the distro better with your suggestions. Leave your comments below and I will get to working on them.