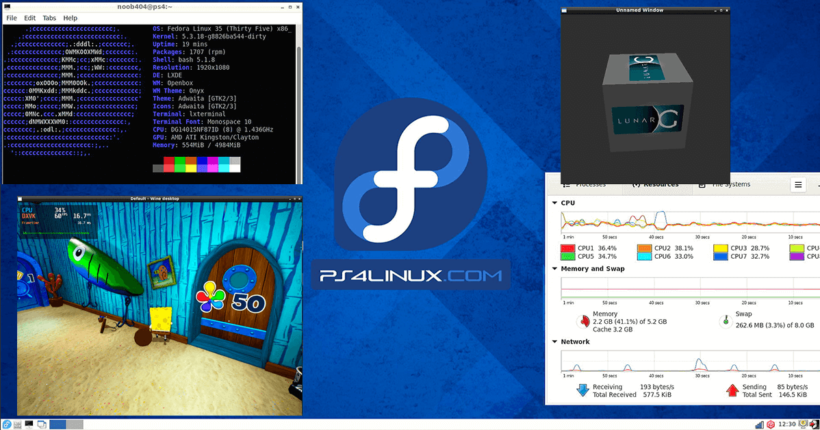 Fedora is easily one of the best Linux distros for the PS4. Here, I present to you the latest stable version of Fedora, i.e., Fedora 35 LXDE for PS4. The latest drivers on Fedora have been ported for the PS4 and have been installed by default along with some common gaming applications. So, just download the distro and get started with gaming.
Features
Display Manager – GDM
Mesa – 21.3.8
Libdrm – 2.4.110
Lightweight LXDE – Better RAM usage and slightly better gaming performance
Included gaming applications
The following applications have been installed in the distro by default:-
Wine
Steam
Dolphin Emulator
PCSX2
RetroArch
DXVK
VKD3D
Want to learn how you can install these applications and more on any distro? Check our detailed article on terminal commands to install major Linux applications.
Download
Login details
User: noob404
Password: ps4
Root password: ps4
Screenshots
Fedora 35 on PS4: Showcase Video
Installation: How to install Fedora 35 on PS4?
Follow the steps given below and you will have Fedora 35 running on your PS4 in no time. You may also refer to our detailed guide on installation.
Requirements
USB drive – A storage device with 12GB capacity is enough. But, if you plan on gaming, a USB device with >100GB capacity is recommended. This way, you can install heavy games and still have some space for setting up swap space.
Files
USB Hub, USB Keyboard and Mouse
Exploitable PS4 (Find if yours is exploitable)

Now, let us begin the installation.
Installation
You may also find a slightly more detailed guide here.
Step 1. Preparing USB Drive
Format the USB drive using FAT32 Format. To do that, start the program, select your drive letter properly and click Start.
Note: This will wipe the USB drive completely.
Rename fedora_35_ps4linux.tar.xz to psxitarch.tar.xz.
Copy bzImage, intramfs.cpio.gz and psxitarch.tar.xz to the root of the USB drive that you just formatted.

Step 2. Installing Fedora 35 on PS4 with Rescueshell
Connect USB drive in a port and in the other connect the hub with keyboard and mouse.
You will then have to jailbreak your PS4 and run the Linux Payload. Find the steps for loading Linux payload here. During the first run or while installing a distro, load 1GB VRAM payload.
If the payload loads successfully, the PS4 will drop into a rescueshell. On it, type exec install-psxitarch.sh and press Enter. The program will install the distro on your USB device. This will take time.
After the process has completed, you will be greeted with Fedora login screen. If it doesn't load automatically, type exec start-psxitarch.sh and press Enter.
Login with the password: ps4 and you can start using Fedora 35 right away!
Step 3. Set up swap space (Optional, but recommended)
Setting up a proper swap space is recommended as it reduces the instances of crashes during gaming and other heavy tasks. To do so, just follow the instructions below.
Open a terminal and type su. It will ask for a password. Enter ps4. You should now have root access.
Next, type cd / and press Enter.
Then, type touch /swapfile.
Next, you have to decide how much swap space you require. 4GB to 8GB of swap is recommended for gaming. Assuming, you want to have 8GB of swap, type fallocate -l 8GB /swapfile and press Enter.
Then, type chmod 600 /swapfile and press Enter.
Following that, type mkswap /swapfile and press Enter.
Finally, type swapon /swapfile and press Enter.
To make this permanent, type nano /etc/fstab. This will open the file, fstab in a text editor.
Use the arrow keys to scroll to the last empty line and type /swapfile none swap sw 0 0. Press Ctrl+X followed by Enter.
Press Y when prompted with "Save modified buffer" and Enter.
Confirm that the file name to write is /etc/fstab and press Enter.
If this method doesn't work, try this alternate swap creation method (second one in the section).
Update Fedora 35 on PS4
First of all, please do not confuse yourselves with a distro upgrade and an update. An update will update all the applications and packages like Wine, Steam and even the drivers to the latest version available for that edition, like Fedora 35. Now, while updating the packages on Fedora 35 for PS4, we have to be careful. As already mentioned, the update process updates each and every package, meaning this will overwrite the PS4-specific drivers that we usually install while building the distro. So, updating the packages require a specific command. Keep reading to learn how you could update packages on Fedora 35 for PS4.
Open a terminal.
Type sudo dnf update -x kernel*,libdrm*,mesa*,xorg-x11-drv-a* and press Enter.
This will update the packages while excluding the PS4-specific graphics drivers.
Fix issues with Fedora 35 on PS4
The distro might have some bugs and issues on your PS4. Here, I will list some known issues and the solutions for them. Please let me know in the comments if you face any other issues with it. I will work on a solution.
Incorrect time
UPDATE: For a permanent solution, check this article.
This distro on PS4 doesn't seem to update the time when connected to the internet. So, each time you restart, the time resets, that too wrong. For the time being, you will have to set time manually after a restart. Follow the steps below.
Open Terminal
Assuming the date is 20th March, 2022 and the time is 8:45PM, type sudo timedatectl set-time "2022-03-20 20:45:00" and press Enter.
Rest assured. I will find a way to automatically set this and update here. In the meantime, if you have a better solution, please comment below.
Conclusion
If you face any issues with Fedora 35, just leave a comment under this article. I will work on a fix and update accordingly.