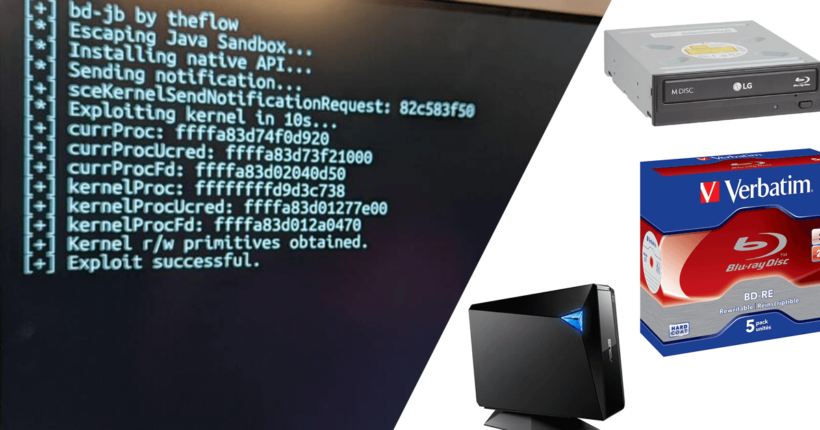 Ever since theflow0 disclosed his BD-JB exploit affecting the PS3, PS4, PS5 and even Xbox, many have been on the hunt for Blu-ray writers and Blu-ray discs. Why is that? Because, the upcoming exploits or jailbreaks for these consoles will require code running from a Blu-ray disc. That would be the case, atleast until another exploit is available. So here, I would like to reduce your burden by listing a few Blu-ray writers and Blu-ray discs to buy for running BD-JB exploit on your PS4, PS4 and PS5.
As for theflow0, he needs no special mention. The man's a legend in the PlayStation scene. Recently, he made $30,000 in 2 weeks for PlayStation bugs. As for the BD-JB exploit itself, most of you are already aware of the exploit and its implications. Hardwear.io has already made theflow0's presentation available on YouTube, if you are tech savvy and understand the language.
The exploit is still in its nascent phase. But, we already have the FTP payload for it available, and very soon, we can expect devs to release HEN payloads and even Linux payloads to work with the exploit. So, let us prepare ourselves for that moment the best we can.
Now, we know that Blu-ray writers are available in both external (USB) and internal forms. The internal drive will connect using SATA and will work on desktops, while the USB Blu-ray writer is portable and can be used with virtually any PC having a USB port. So, depending on your needs, choose the best one among the following. I have also provided the Amazon (affiliate) links to buy these.
Best External Blu-ray Writers for BD-JB exploit
LG WP50NB40
Features
Drive Type: External Slim Portable Blu-ray Writer

Interface: USB 2.0 (480 Mb/s)

Buffer Memory: 4 MB

Write: CD-R: 24X, CD-RW: 16X, DVDR SL/DL: 8X, DVDRW: 8X/6X, DVD-RAM: 5X, BD-R SL/DL: 6X, BD-RE SL/DL/TL: 2X

Read: CD-R/RW/ROM: 24X, DVD-ROM: 8X, BD-ROM SL/DL: 6X.Sustained transfer rate BD-ROM 26.97 MB/s
Now, one thing to note is that, this is more on the affordable side since it is a USB 2.0 device. So, the speed might be slower especially if you have a PC that sports USB 3.1 ports or even later. But, keep in mind that the exploit implementation is packages into a very tiny <10 MB ISO file. Unless you are planning to use the drive for other purposes, this should be a good enough option for BD-JB.
Asus BW-16D1H-U-PRO
Features
Power : Adapter Power +12V ±5%, 3A

Access time : BD(SL/DL) : 180 ms DVD : 170 ms CD : 150 ms Interface : USB 2.0/USB 3.0

Disc Formats : Audio CD, Video CD, CD-I, CD-Extra, Photo CD, CD-Text, CD-ROM/XA, Multi-session CD, BD video, DVD Video Mounting Orientation : Vertical and Horizontal (+5° ~ -5°)
This Asus Blu-ray writer is more expensive than the earlier one. But, as you can see, it is more pleasing to the eye and has USB 3.0 support. But, this writer is bulkier than the LG one and also requires external power using an included power adaptor to work. So, you might have to compromise a little on the portability for the extra power and looks that the drive has.
Best Internal Blu-ray Writers for BD-JB exploit
LG WH16NS40
Features
Write and read Quad, Triple, Double Layer BD-R discs – BDXL format supports high capacity Blu-ray discs (up to 100GB write-once discs)

16x BD-R write capability, 16x DVDR write speed, Serial ATA Interface, Windows 10 compatible

Silent Play technology automatically controls the disc read speed for optimal noise reduction

M-DISC (DVD) Supported – use M-DISCS with this drive for superior data protection
One of the best features of this drive is the 16X Blu-ray write speed. This can't easily be matched by the affordable external Blu-ray writers out there. So, if you are comfortable adding the writer to your PC, while sacrificing an available SATA connection, I would suggest you go for it.
Best Blu-ray discs for BD-JB exploit
This is actually funny and yet at the same time, sad. BD-JB applications require to be run off a Blu-ray disc. No compromise there. It just wouldn't run if you try to run it off a DVD. It is sad not because a DVD isn't capable of BD-JB. Instead, it's sad because we will be sacrificing a Blu-ray disc (minimum capacity of 25GB) to write content <10 MB in size. In order to allay that, it's better to buy BD-RE discs as theflow0 suggested. These are rewritable Blu-ray discs. Off the top of my head, it has three benefits:-
When the exploit implementation is updated, you won't have to burn the latest one to a new Blu-ray disc.
If you are a developer and want to experiment, BD-RE is compulsory.
Once done with BD-JB, you can reuse the Blu-ray disc.
Keeping all those points in mind, I will list a few affordable options.
Verbatim BD-RE (25GB)
This is the most sought after as of now. This is available in multiple options – 5 pack, 10 pack, etc. You may choose any, as per your requirements.
Conclusion
These are a few to get you started with. But, as time permits, I will add more affordable options to this list. Make sure you have bookmarked this page, so that you don't miss out on any great offers.